MissMisstreater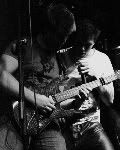 Joined: 04 Aug 2008
Posts: 327

Posted: Sun Apr 12, 2009 6:55 pm

Post subject: pass this one around guys!

---

http://www.youtube.com/watch?v=xl1W_zgD47o&feature=channel_page

i dont really do blues, but someone caught me doing it! laughs!

i want to get this around because on the guitar break page, theres alot of guthrie, dave k, neville, jason....and then they put me up!!!

so help me get the views sky high and the 5 star ratings through the roof!

its all promotion

thank you!!!