ragingmollusk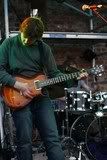 Joined: 15 Jun 2009
Posts: 2
Location: Harrogate, North Yorkshire, U.K
Posted: Mon Jun 15, 2009 7:45 pm

Post subject: Hey Guthrie Fans!

---

Hey everyone.

My name is Jake Whitehouse. I am 17 years old and I'm from Harrogate in the U.K.

I play guitar and I study music and I am a big fan of Guthrie Govan.

I look forward to meeting lot of new friends on the board.

Hope to be talking to you very soon, Jake.
_________________
There are many musicians that can write great melodies but Guthrie Govan can improvise better ones.
alexkhan


Joined: 10 Sep 2004
Posts: 2783
Location: Chino, CA
Posted: Mon Jun 15, 2009 8:54 pm

Post subject:

---

Hi Jake, welcome to the GG forum and thanks for the post! Glad to have you here and hope you post often!
_________________
Ed Yoon
Certified Guthrie Fan-atic
BOING Music LLC - Managing Partner
.strandberg* Guitars USA
Ed Yoon Consulting & Management
Guitar Center Inc.