Keven


Joined: 27 Mar 2010
Posts: 1
Location: Sandnes
Posted: Sat Mar 27, 2010 12:40 pm

Post subject: Hi there

---

Hi!
I saw a lot of introductions here, so i thought i should introduce myself.

My name is Keven and i live in Sandnes, Norway.
I am currently a highschool student at a performingarts school, where i play guitar, sing and piano, but i consider guitar as my main instrument
I love listening to blues/rock and piano/ost instrumentals.

Last year, around christmastime, Guthrie and Ed was here at the local guitardealer's, holding a masterclass, clinic and concert. That was an amazing event, i don't think i ever will forget that day! After that masterclass and talking with both og them, my whole view of music and guitar changed. And due to influences by Guthrie, i now really enjoy fusion, jazz and other modal based music.

Anyway, ive been playing guitar for almost 3 years now, singing for 4 years and piano for almost a year. I daily practise a few hours at my guitar, but now its easter so i will play at least 7 hours a day.

When i have finished highschool, my dream is to be accepted into Berklee College of Music in Boston, but i dont think that will ever happen.

I found this forum because i wanted to see if anyone had posted the chordprogession for Guthrie's songs, i tried to download the Fives pack at jamtrackcentral, but there were only a transciption of the sologuitar, backingtrack, live recording and a video, but that alone was awesome!

Thank you Guthrie and Ed, for being very inspiring!(btw, i took your advise Ed, so I go jamming with other musician whenever i have the opportunity!)
frankus


Joined: 13 Sep 2004
Posts: 1100
Location: Chelmsford/Arachnipus
Posted: Mon Mar 29, 2010 12:32 pm

Post subject:

---

Welcome, if you check around the site I'm sure there are transcriptions by MissMistreater.

All the best.
_________________
Fabulous powers were revealed to me the day I held my magic Suhr(d) aloft and said "by the power of great scale!"

I have the power!
MissMisstreater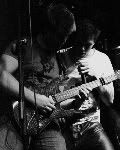 Joined: 04 Aug 2008
Posts: 327

Posted: Mon Mar 29, 2010 2:09 pm

Post subject:

---

this is true



Welcome aboard
_________________
Suhr GG modern > peterson strobe 2 > EB wah > Rothwell compressor > Xotic bb+ > Suhr Shiba > Suhr Riot > DE phaser > Analogman bichorus (all in carl martin combinator) > Bogner XTC head > EB volume > Eventide timefactor > cornford 2x12